The Wheel Turns...
Hunters For The Horn

unters For The Horn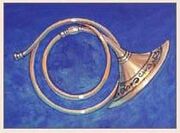 The Great Hunt For The Horn is an epic ballad often recited by bards and gleemen. It tells of the hunt for the Horn of Valere, a great war horn that is said to summon the heroes of ages past to fight at the side of the man who blows it. The prophecies of the dragon mention that the Horn of Valere must be sounded at Tarmon Gaidon to summon those heroes to fight for the dragon reborn.
Over the centuries, a number of hunts for the horn have been called and each time hundreds of would be heroes have flocked to Illian, where the hunters are traditionally blessed and swear the oath of the hunter in the grand square before setting off on their quest. Many of the most famous heroes of legend have been hunters for the horn.